The South African government has released its final regulations covering the 21-day lockdown to start at midnight on Thursday, and it said that people were meant to stay in their homes at all times except to obtain essential goods and services.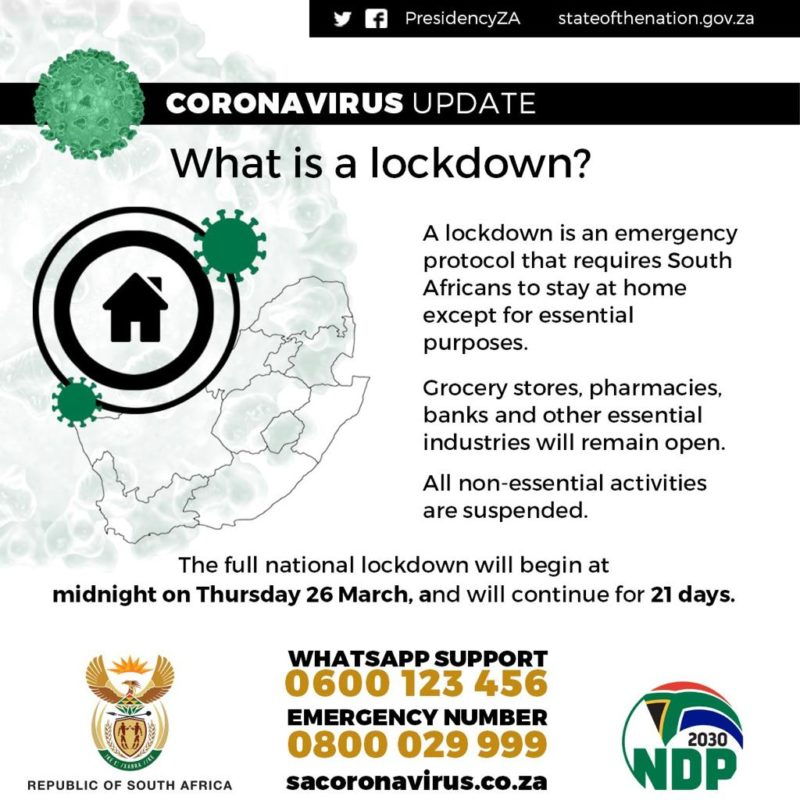 The Minister of Police Bheki Cele said at a press conference, where several ministers from the security cluster commented on the regulations under the Disaster Management Act, that all businesses would be closed so there would be no reason for anyone to be on the roads except for essential goods and services specified in the act. (See the list below.)
After it had been stated earlier in the day by the Minister of Health Zweli Mkhize that walking dogs and short jogs would be allowed, Cele said there would be no walking of dogs. "If you want to walk your dogs around your property, it ends there." The movement between provinces and between district and metropolitan areas is forbidden, according to the regulations.
In countries like the United Kingdom, one form of daily exercise is allowed under its lockdown, but that does not seem to be the case in South Africa.
The Minister of Defence, Nosiviwe Mapisa-Nqakula, said that the army would be deployed alongside the police to make sure the lockdown was complied with.
Cele said there would also be no movement of liquor allowed. Only grocery stores and pharmacies and banks would remain open. Liquor stores would be closed, and liquor sections of supermarkets too. The liquor that people already had at home they should consume at home, "and not nextdoor."
"For 21 days, please, stay sober." he said.
The act states that "every person is confined to his or her place of residence unless strictly for the purpose of performing an essential service, obtaining an essential good or service, collecting a social grant, or seeking emergency, life-saving, or chronic medical attention."
All gatherings of any kind were forbidden "except for a funeral" in terms provided by the act.
All commuter transport, including passenger trains, buses, taxis, e-hailing services, maritime and passenger airplanes, were to be prohibited, except buses, taxis, e-hailing services and passenger vehicles used for essential goods and services and to receive medical attention or payment of grants or for funerals.